Seventeen poets in search of a community
Pix by aNaNd ViVeK tAnEjA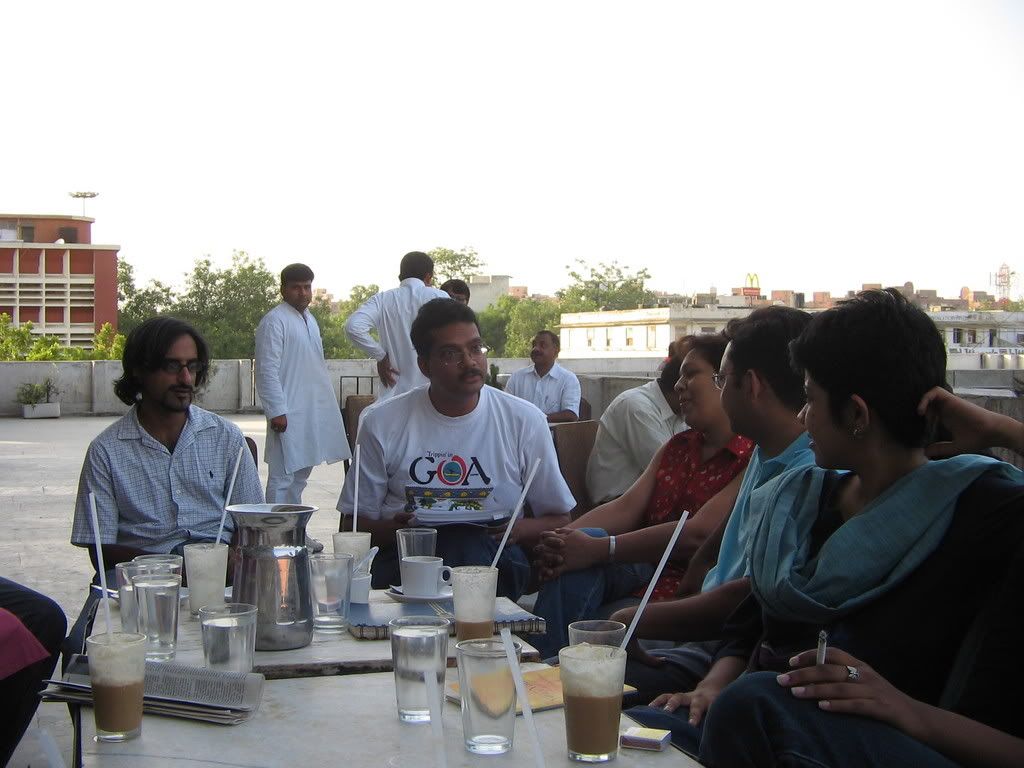 On Sunday, 12 June, all of eighteen people turned up for the first ever ZEST offline meet, held to mark the first anniversary of the ZESTPoets list. I had posted an announcement earlier. Of the eighteen one had to leave within half an hour, which is by when we got around to starting it. ANd not all had arrived by then: inexplicably, people would join us in groups every now and then, only when Vivek Narayannan would be reading!

Those who attended included Vivek Narayannan, another Vivek, Brian Mendonca, Blanche, Ronnie Bbanerjee, Anand Vivek Taneja (who took these pictures), Monica Mody, Trupthi Basarvaj, Sanjukta Basu, Abhinav, Harneet Bhatia, Susan Alex, Nitoo Das, and Ravi. The one who left before the action began was Dhiraj Singh. I have forgotten some names: please remind me you were there and I will include them.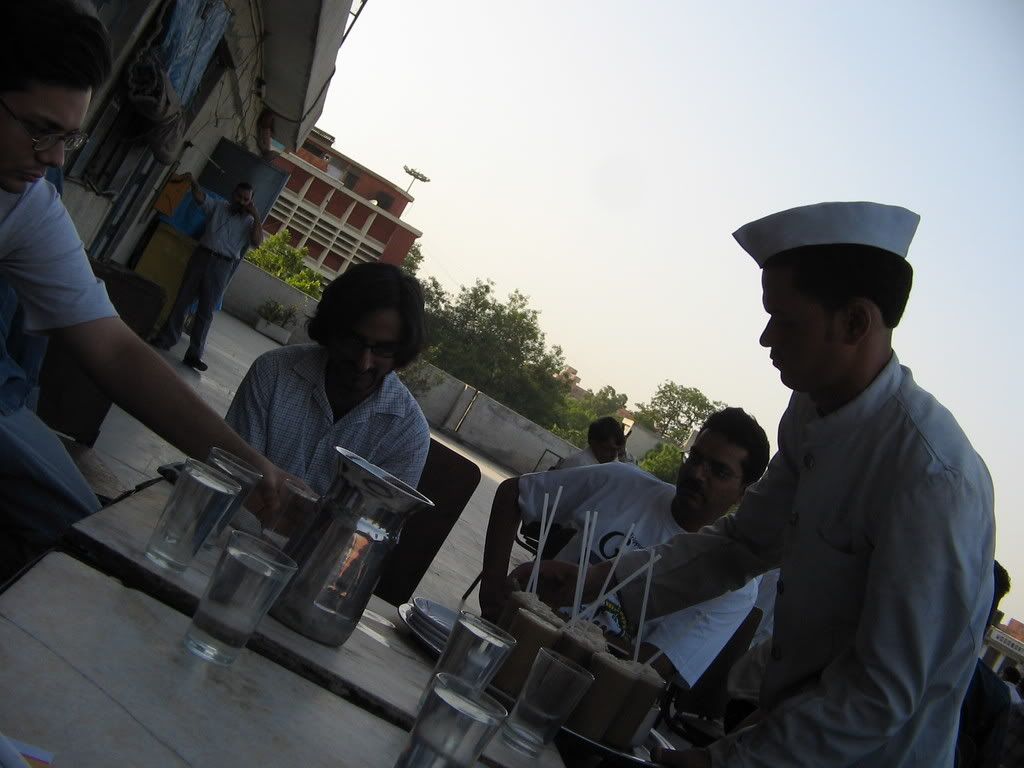 In terms of both quality and quantity, I think, the output was much better there than on the list! Apologies for using so un-poetic terms in the last sentence. We read not just English and Indian English poetry, but also French, Portugese, Urdu and Hindi! Beat that.
Unfortunately, Juhi Dua (the initiator of ZESTPoets) tells me that in the Mumbai meet organised by Loquations, only four people turned up! That's probably because it was on Tuesday the forteenth, at 5:30 pm. Office hours don't give concessions to the muse.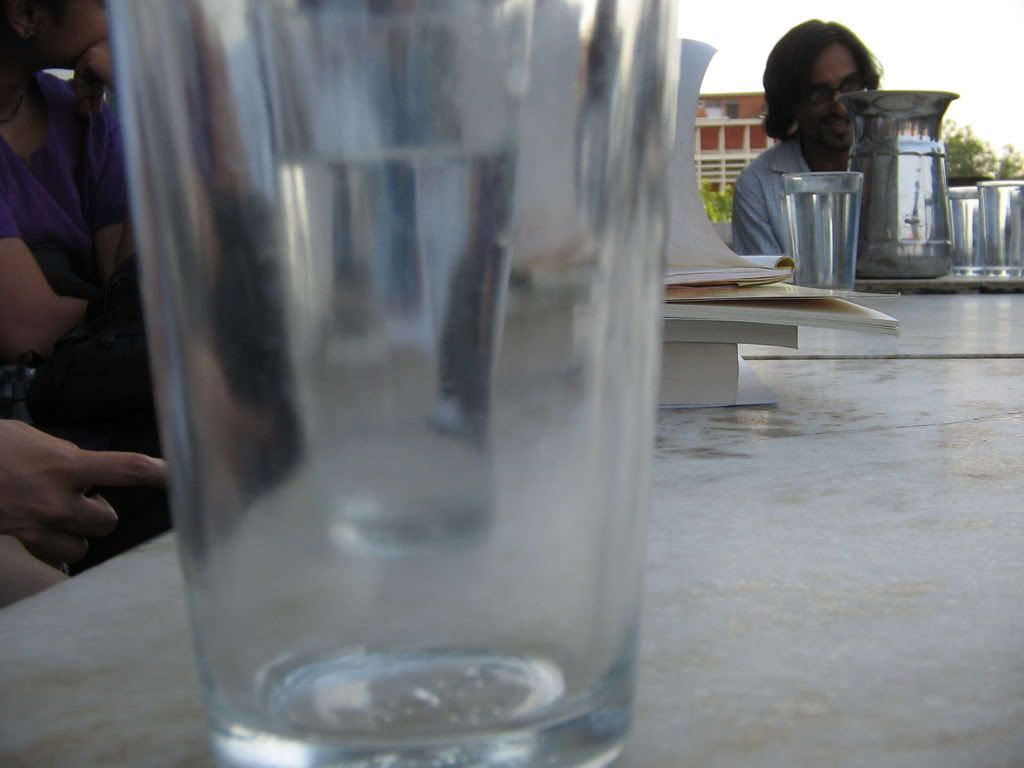 It spontaneously so happened that people started reading particular poems in response to a poem read out by another person earlier. This happened in particular in the case of Vivek Narayannan's 'city' poems.
I particularly enjoyed Brian Mendonca's work, and the debate over whether a poem should have a glossary by the poet, needs to be explored further. Brian gave me copies of his essays (published in Tehelka and other places) on Indian poetry in English, and also his poems. I have requested him to post some of this on the list.

I don't know why Nitoo didn't bring along any of her (or anyone's) work. I often enjoy her poetry at her blog. I was speaking to Brian on the phone and he said he was amazed by the number of people who came just to listen and not to read. I think these were closet poets, and are likely to come out by the next time we meet again at the Indian Coffe House's open terrace, where geriatrics and monkeys, Raj-era butlers and cheap coffee give us good company. Anand gave us a background of Coffe House's history and its significance for poets, and given what an anachronism the place is today, I read out a Vikram Seth poem about another place of the past.


Party for the Retirement of the Oldest-Serving British Museum Reading Room Book Attendant
- Vikram Seth

Yes, yes, thank you, thank you, yes, it has been
A very pleasant forty... fifty years.
Quite so, sir; how time does fly. I have seen
So many changes that the world appears
Peculiar now. But this place, not much change.
Well, yes, sir, that's correct, the lighting's new.
And now we're particular about checking; strange,
Recently, though, we have lost quite a few.
Marx?... Marx?... well, there was someone of that name;
Old gentlemen he was. Sat at 10A,
Writing, writing, writing, always the same,
And foreign languages too, day after day,
Year after year. One day he left, and since then
No-one has ever heard of him again.

On this blog and on mail, there have been demands that the poetry read out at the meet be posted online. It's not possible for me to do so: there were so many and I don't have them with me. I have only their music in my mind. Those who attended are welcome to post the poems they read on the list. If you are not a member of the list, you can still read the archives. You can join ZESTPoets here, or by sending a blank email to ZESTPoets-subscribe@yahoogroups.com.
Before leaving, some demanded that this offline meet should be held every month. Sure, why not? See you again on Sunday, 31 July 2005 at the Indian Coffe House, poems in hand.